International Internet Magazine. Baltic States news & analytics
Sunday, 28.05.2017, 11:35
Investment object for sale near Jurmala
BC, Riga, 08.03.2013.

Print version
For sale an investment object – a plot of land (55 400 square meters) with an attractive location, a few minutes drive from Jurmala, 20 minutes drive from Riga and 10 minutes from the airport. After completion of construction of the new bridge connecting the plot of land with the centre of Jurmala the plot of land will be integrated into Jurmala which will increase its value considerably.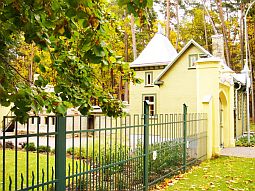 Illustrative photo.
In the course of the investment project a luxury club cottage village will be built. Concept and architectural design of the project is developed by the international architectural firm Gorn Group (Russia, Ukraine, France).
The following work has been carried out on the plot of land:
- A detailed planning of the territory divided into 17 plots (2500-3000 square meters each) with a possibility to unite two or more plots. Area of the houses is from 350 to 600 meters;
- Asphalt access road;
- Each plot has been supplied with electricity, 17 individual electric service panels have been installed;
- All inner temporary roads (10 meters wide) have been built;
- Old buildings have been removed, the territory has been cleaned. The plots of land are fully prepared for the individual construction.
- A detailed geological and geodesic examination of the territory has been carried out.
Please contact the law office INLAT PLUS for further information:
Brivibas 40-15,
LV-1050, Riga, Latvia
Tel.: (+371) 67505973, 67505979
Mob.tel.: (+371) 25945748, 26403577
Fax: (+371) 67505978
www.investplus.lv
http://www.facebook.com/inlatplus