International Internet Magazine. Baltic States news & analytics
Monday, 18.06.2018, 20:17
Lithuania and Israel reach new level of constructive partnership
Petras Vaida, BC, Vilnius, 07.03.2012.

Print version
On 6 March in Jerusalem, Lithuanian and Israeli Ministers of Foreign Affairs Audronius Azubalis and Avigdor Liberman discussed Iran's nuclear programme which raises serious concerns among the international community and possibilities for peaceful solutions and the situation in Syria, informed BC the Ministry of Foreign Affairs.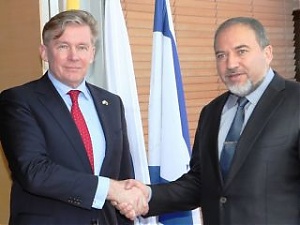 Audronius Azubalis and Avigdor Liberman. Jerusalem, 6.03.2012. Photo: urm.lt
At the meeting the Ministers stressed that crimes committed by the Syrian regime were unacceptable to the international community of democratic states and societies.
The ministers highlighted the successful bilateral cooperation between Lithuania and Israel. "Relations between Lithuania and Israel reached a new qualitative level and our bilateral agenda has expanded considerably. In 2009-2011, we exchanged more than 20 high-level visits, while tourism flows increased by 62 percent in the past year alone. This is a good start, but we need to maintain an ambitious level and take a broader view of our partnership," Azubalis said.
He also invited Israel to open an embassy in Lithuania.
Azubalis emphasized common EU position on the Middle East peace process, that is, the two-state solution – Israel and Palestine – living side by side in peace. He also stressed the need to resume peace talks.
Prior to the meeting, the ministers signed a bilateral programme of Lithuania and Israel for cooperation in the fields of culture, education and science in 2012-2014.
"Lithuania has a 700-year history as home to the Jewish people. Moreover, globalization has changed the world and today Lithuania and Israel can be called neighbours. Your interests are our interests. Therefore, we need more than just intensive economic relations and meetings of heads of state. We need more people-to-people contacts and cultural interaction," the minister underlined.
On the same day, he held meetings with Knesset Speaker Reuven Rivlin and Chairman of the Knesset Group for Interparliamentary Relations with Lithuania Zeev Bielski.
During a solemn reception in Tel Aviv, devoted to the restoration of Lithuania's independence and to the 20th anniversary of the establishment of diplomatic relations between Lithuania and Israel, the Minister will confer the award of honour of Lithuania's Ministry of Foreign Affairs "Lithuanian Diplomacy Star" on two Israeli citizens – Deputy Director General of the Israeli Ministry of Foreign Affairs Pinhas Avivi and first Israeli Ambassador to Lithuania Tova Herzl – for fostering bilateral relations between Lithuania and Israel.