International Internet Magazine. Baltic States news & analytics
Saturday, 23.02.2019, 11:10
Lithuania and Ukraine sign joint declaration on cooperation
Petras Vaida, BC, Vilnius, 01.07.2011.

Print version
On 30 June in Vilnius, Lithuania and Ukraine signed a joint declaration on cooperation at both an international and regional level, which provides for consultations of the countries on international and regional issues, also during their chairmanship of regional organizations, and as Ukraine is looking forward to progress on the Association Agreement with the European Union, reports BC the press service of the Foreign Ministry.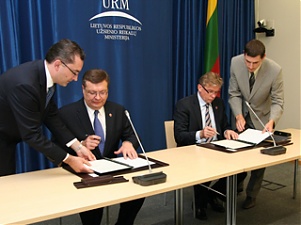 Kostyantyn Gryshchenko and dronius Azubalis. Vilnius, 30.06.2011. Photo: urm.lt
Lithuanian Minister of Foreign Affairs Audronius Azubalis and Minister for Foreign Affairs of Ukraine Kostyantyn Gryshchenko signed the declaration, which is based on the guidelines for the Lithuanian-Ukrainian strategic partnership. On the same day at the Ministry of Foreign Affairs, Azubalis and Gryshchenko chaired the second meeting of the Council of the Lithuanian and Ukrainian Ministries of Foreign Affairs.
The Council discussed issues related to Ukraine's integration with the EU, participation in the EU Eastern Partnership initiative, the Lithuanian-Ukrainian cooperation in the spheres of energy and transport, and within international organizations.
Gryshchenko noted that Ukraine really appreciated Lithuania's support and consultations, aiming to complete negotiations between Ukraine and the EU on the Association Agreement and a Free Trade Agreement by the end of this year
The countries agreed to cooperate during their Chairmanship of the Organization for Security and Co-operation in Europe (OSCE). Lithuania is chairing the OSCE in 2011, and Ukraine in 2013.
Gryshchenko noted that Ukraine was interested in taking over the experience of Lithuania's Chairmanship of this organization. The Ministers agreed to hold consultations to share this specific experience.
Heads of the Lithuanian and Ukrainian diplomacy welcomed the cooperation projects that were initiated by Lithuania on the modernisation of the Ukrainian customs. They also agreed to advance cooperation on energy and transport projects that were strategically important to the region, such as a container train Viking and the East-West transport corridor.
The Council of the Lithuanian and Ukrainian Ministries of Foreign Affairs is a new cooperation framework for the development of a constructive strategic partnership between the two countries. The Council held its first meeting on 17 June 2010 in Vilnius.