International Internet Magazine. Baltic States news & analytics
Thursday, 17.01.2019, 09:10
PM: Latvia, Belarus can successfully cooperate in transport, logistics, tourism, ICT
BC, Riga, 09.02.2018.

Print version
Latvia and Belarus may successfully cooperate in transport and logistics, tourism and information and communication technologies (ICT), said Latvian Prime Minister Maris Kucinskis (Greens/Farmers) during his meeting with Mikhail Myasnikovich, Chairman of the Council of the Belarus Republic of the National Assembly, reports LETA.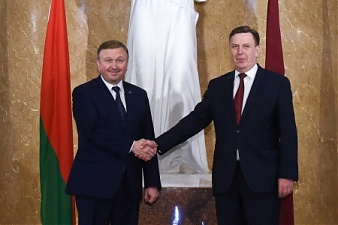 Photo: mk.gov.lv
Kucinskis' office informed that the Latvian prime minister during his visit to Minsk met also with Belarus President Alexander Lukashenko. During the meeting, both officials discussed bilateral cooperation issues and development of the EU-Belarus relations.
Kucinskis during the meeting with Lukashenko underscored the necessity to strengthen economic relations between both countries, especially in transport and logistics. The officials also discussed the 2021 World Ice-Hockey Championship that will be organized jointly by Latvia and Belarus.
During his visit, Kucinskis also met with Myasnikovich and discussed bilateral cooperation and the EU-Belarus cooperation.
Kucinskis underscored the necessity to develop cooperation between both countries, focusing on economic cooperation. "There are areas in which Latvia and Belarus may cooperate successfully – transport and logistics, tourism, ICT," he said.
He also noted cooperation perspective in education and science. Students from Belarus are already studying in Latvian universities, while both Belarus officials said that this cooperation should be intensified, and there is also a cooperation potential in research and culture.
The officials noted necessity for closer cooperation between Belarus and the Baltic region. There was a positive assessment of the existing cooperation between Belarus and different regions in Latvia. Belarus thanked Latvia for its favorable attitude to the Belarus diaspora in Latvia.
As reported, Kucinskis is on a visit to Belarus, and he planned to meet with Lukashenko, Belarusian Prime Minister Andrei Kobyakov, as well as Mikhail Myasnikovich, Chairman of the Council of the Republic of the National Assembly, and Vladimir Andreichuk, Chairman of the House of Representatives.
Kucinskis is accompanied on his trip to Belarus by Environmental Protection and Regional Development Minister Kaspars Gerhards (National Alliance) and Transport Minister Uldis Augulis (Greens/Farmers), as well as municipal officials and entrepreneurs.