International Internet Magazine. Baltic States news & analytics
Friday, 25.05.2018, 13:41
Latvia and Portugal discuss advantages smaller countries have when presiding over EU
Nina Kolyako, BC, Riga, 20.06.2012.

Print version
On Tuesday, Saeima Speaker Solvita Aboltina (Unity) met with the new Portuguese Ambassador to Latvia Manuel Marcelo Monteiro Curto, during which the two sides discussed the advantages smaller countries have when presiding over the European Union, LETA was informed by the Saeima's press service.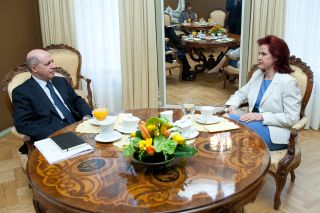 Manuel Marcelo Monteiro Curto and Solvita Aboltina. Riga, 20.06.2012.
During the meeting, Aboltina pointed out the advantages Latvia, as a small country, will have when its takes over the EU Presidency in 2015. She emphasized that countries with smaller bureaucratic structures are more flexible when taking action and making decisions. The ambassador also agreed that small countries can be successful in presiding over the EU, because it is easier for them coordinate interests and come to necessary compromises than larger EU members. The Saeima speakers confirmed that Latvia is also interested in hearing about Portugal's experience, because this country has presided over the EU three times in the past.
Also during the meeting, the two sides confirmed that relations between Latvia and Portugal remain very good. ''We are interested in developing cooperation in areas that are mutually beneficial, especially economic cooperation,'' Aboltina said.
Speaking about the EU's multi-annual budget, the ambassador said that he understands Latvia's efforts to retain suitable cohesion funding, as well as achieving fairer direct payments for farmers.
The ambassador also expressed the point of view that there are high hopes for Latvia's upcoming EU presidency, as the country's experience on economic recovery will be an example for other countries.
The ambassador arrived on an introductory visit.
Monteiro Curto is the sixth ambassador of the Republic of Portugal to the Republic of Latvia since resuming the diplomatic relations between both states. The new Portuguese ambassador will reside in Stockholm.