International Internet Magazine. Baltic States news & analytics
Monday, 28.05.2018, 12:33
Lithuania and Hungary discussed EU's Multiannual Financial Framework for 2014-2020
Danuta Pavilenene, BC, Vilnius, 15.06.2012.

Print version
On June 14 in Vilnius, Lithuanian Deputy Minister of Foreign Affairs Vytautas Leskevicius met with Hungarian Minister of State for European Affairs Eniko Gyori and discussed with her negotiations on the EU's Multiannual Financial Framework for 2014-2020, reported BC the Lithuanian MFA.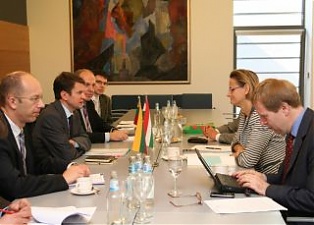 Photo: urm.lt
The Deputy Minister drew attention to Lithuania's aspirations to ensure adequate financing of the decommissioning of the Ignalina nuclear power plant in the new multiannual EU budget. The participants of the meeting agreed to seek that direct payments to farmers and Cohesion Fund support would be granted without discrimination among the EU member states.
Gyori presented the experience of the Hungarian Presidency of the EU Council, which would be useful for Lithuania when preparing to hold the EU Presidency in the second half of 2013.
During the conversation, Leskevicius underlined the importance of effective common European energy policy and the need to build connections to harness energy supply alternatives, and presented Lithuania's steps towards ensuring energy security.
The Hungarian representative agreed that there was a necessity to shape common European energy policy and informed about her country's accomplishments in harnessing nuclear energy and strengthening energy security.
The Deputy Minister noted that the Government of Lithuania was concerned over the implementation of not transparent, potentially unsafe nuclear projects in Belarus and in Russia's region of Kaliningrad that violated international safety rules.
The participants of the meeting also discussed possibilities to more actively develop the EU Eastern partnership policy, make joint effort to evaluate the crimes that were committed by totalitarian regimes at the EU level and to exchange opinions on other topical issues on the EU agenda.