International Internet Magazine. Baltic States news & analytics
Sunday, 20.05.2018, 22:41
Baltic foreign affairs committees discuss international policy and security issues
Petras Vaida, BC, Vilnius, 06.06.2012.

Print version
A traditional meeting between the Foreign Affairs Committees of the three Baltic States, hosted by the Seimas Committee on Foreign Affairs, took place in Nida (Lithuania) on 3 June 2012.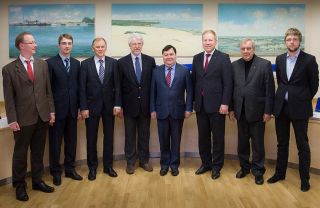 Photo: seimas.lt
The Lithuanian, Latvian and Estonian MPs discussed at the meeting the following international policy issues of significance to the region: military build-up in the Kaliningrad Region of the Russian Federation in the vicinity of Lithuania and its impact on Russia's relationship with the Baltic States, NATO and the EU; energy security of the Baltic States; the potential for developing cooperation between the Nordic and Baltic States, the Seimas press office said.
During their discussion on the recently increasing information in the public domain regarding the military build-up of the Russian Federation, including its Kaliningrad Region bordering Lithuania, the Lithuanian, Latvian and Estonian MPs observed that the escalating formal statements by the high political and military leadership of Russia on this issue give reasonable grounds for concern to the neighbouring countries.
Speaking in support of NATO's openness to cooperation with Russia and the immense significance of large-scale cooperation between NATO and Russia, the Lithuanian, Latvian and Estonian MPs also stressed the need to take account of the statements by Russia's political and military leadership about the military build-up when deciding the content and practical aspects of NATO-Russia cooperation.
During the session on the Baltic energy security, the Lithuanian delegation presented the projects of LNG terminal and Visaginas Nuclear Power Plant that are under way and aimed at ensuring diversification of energy supplies. The participants highlighted that account should be taken of political as well as economic benefits the projects would offer for the three Baltic States.
The Lithuanian delegation also made a presentation on the Energy Security Centre in Lithuania which, according to the decisions made at the NATO Summit in Chicago, is expected to become a NATO-accredited centre of excellence, and invited Latvia and Estonia to take active participation in its work.
In their debate on the cooperation potential between the Nordic and Baltic States, the Lithuanian, Latvian and Estonian MPs welcomed the existing relations and cooperation between the countries and emphasised the need for the countries to continue eliminating the remaining obstacles, such as economic and social gaps as well as the lack of better knowledge of one another and understanding of a shared identity, to an even closer convergence of the Nordic and Baltic States.