International Internet Magazine. Baltic States news & analytics
Monday, 21.05.2018, 19:37
Council of Europe secretary general lauds planned Citizenship Law amendments in Latvia
Alla Petrova, BC, Riga, 04.06.2012.

Print version
Today, visiting Council of Europe Secretary General Thorbjorn Jagland met with Saeima members, confirming that he is well-informed and positively assesses the planned amendments to the Citizenship Law, which will make it easier to grant citizenship to children of non-citizens, LETA was informed by Inese Libina-Egnere (Reform Party), the head of the Latvian delegation to the Parliamentary Assembly of the Council of Europe.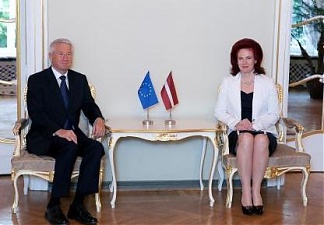 Thorbjorn Jagland and Solvita Aboltina. Riga, 4.06.2012. Photo: saeima.lv
Libina-Egnere explained that Jagland only barely touched upon the state of human rights in Latvia, emphasizing the role of the Council of Europe in strengthening democracy and rule of law during the complicated economic situation in Europe. The officials also discussed the Latvian delegation's contribution to this process.
Russia's restrictions on public assembly were on the agenda as well. Libina-Egnere pointed out that human rights observance must be ensured even despite Russia's considerable contributions to the Council of Europe's budget.
Prime Minister Valdis Dombrovskis at a meeting with visiting Council of Europe (CoE) Secretary General Thorbjorn Jagland also discussed the non-citizen issue, explaining that contrary to other nations in Europe, Latvia has a broader interpretation of the definition of "minority"; this also pertains to people who are not citizens of Latvia.
Speaking about non-citizens, the PM informed Jagland that last week the government approved easing the requirements for children of non-citizens.
Jagland made no reprimands about Latvia's existing human rights record vis-a-vis non-citizens.
Also discussed today was the presidency in CoE, with Dombrovskis insisting that the issue of Greece must be a priority during this period.
Jagland and Dombrovskis also talked about the many petitions under review in ECHR and the hampered legal process thereof. Most the petitions are from Russia, Turkey and Italy.
Interviewed by LETA, the secretary general admitted that the EU faces many problems with human rights, and to solve them – concentrated effort must be made in utilizing all available resources
As reported, the government has approved the current version of Citizenship Law amendments, stipulating that non-citizen children can be registered as Latvian citizens, when they are registered at the registry office, if requested by their legal guardian. This will apply to all non-citizen children born after the coming into force of the law.