International Internet Magazine. Baltic States news & analytics
Wednesday, 20.02.2019, 03:33
Trump threatens to pull U.S. out of NATO
BC, Riga, 12.07.2018.

Print version
U.S. President Donald Trump threatened to pull out of NATO at a summit of country leaders on Thursday over defense spending, reported LETA according to DPA and AFP information.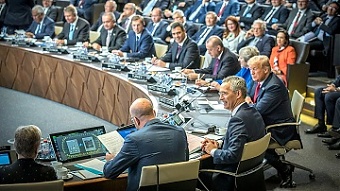 The U.S. president said if other countries don't meet NATO's 2% of GDP spending target for defense, the U.S. would go it alone, DPA reported, citing unnamed sources.
Trump warned of "grave consequences" if allies do not immediately meet higher spending targets, derailing a morning meeting of NATO leaders with the leaders of Georgia and Ukraine on the second day of a NATO leaders' summit on Thursday.
NATO Secretary-General Jens Stoltenberg immediately shifted the meeting of the North Atlantic Council, the alliance's top political body, into an allies-only emergency session. Partners including European Commission President Jean-Claude Juncker therefore left the discussion.
Diplomatic sources told AFP that Trump used a meeting between the 29 NATO leaders and the presidents of Ukraine and Georgia to repeat for countries to meet a spending target of two percent of GDP immediately, instead of by 2024, and to eventually double spending to 4%.
"Trump took advantage of his speaking time to return to the issue of burden sharing" during the Ukraine and Georgia meeting, a diplomatic source told AFP.
"Trump pointed to several countries, especially Germany," the source said, adding that the US president used "hard language, with repeated references to Germany".
However, the AFP sources refused to comment on reports that Trump threatened to pull the US out of NATO if his demands were not met.