International Internet Magazine. Baltic States news & analytics
Tuesday, 24.04.2018, 04:09
EU environment ministers reaffirm commitment to Paris Agreement
BC, Tallinn, 17.07.2017.

Print version
At their meeting in Tallinn on July 14th, the environment ministers of the European Union reaffirmed Europe's commitment to the Paris Agreement and discussed the opportunities and challenges ahead, reports LETA/BNS.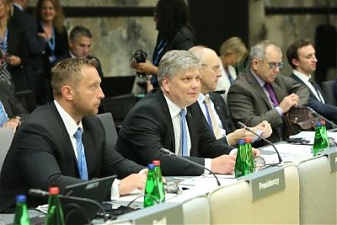 Photo: envir.ee
"The EU has promised to reduce its carbon emissions by 40 percent by 2030 and we will keep our promises. It is not always easy, but in the long run, it will benefit not only the environment but also the well-being of our people and the competitiveness of our economy," Estonian Environment Minister Siim Kiisler, who chaired the meeting, said according to spokespeople.
"As the leaders of G20 recently stated, a strong economy and a healthy planet are mutually reinforcing and the Paris Agreement is irreversible," he said.
The minister recalled that the Estonian presidency program includes the reform of the emissions trading system (ETS); reducing emissions in sectors falling outside the ETS and pushing forward with the clean energy package, precisely with the goal to implement the Paris agenda. Both climate and energy are among the priorities of the Estonian presidency this semester.
The ministers stressed the role of cooperation in effective climate action: working with the private sector and local authorities is essential for making the global agreement a success. Laurence Tubiana, the CEO of the European Climate Foundation; Charles O. Holliday, chairman of Royal Dutch Shell; and Seyni Nafo, ambassador chair of the African Group of Negotiators, shared their experiences and insights on cooperation with the civil society, private sector and developing countries.
The Estonian minister of the environment said that the EU will continue to demonstrate global solidarity by investing in international cooperation in order to support reducing climate-related risks. In 2015, the EU and its member states provided a total of 17.6 billion euros from public budgets for this purpose.
"No country should be left on its own in tackling the consequences of climate change. Eventually, the impact will affect us all," Kiisler said. "This understanding should guide everyone around the table at the international negotiations in Bonn and beyond."
The Estonian presidency will prepare the Council conclusions on COP 23, or the 23rd session of the Conference of the Parties (COP) to the UN Convention on Climate Change, at the Environmental Council scheduled for October.