International Internet Magazine. Baltic States news & analytics
Sunday, 20.05.2018, 22:22
Latvia and Canada have historically important and promising bilateral relations
BC, Riga, 19.09.2013.

Print version
Latvian President Andris Berzins began his working visit to Canada by visiting the country's capital, Ottawa, to meet with the speaker of the Canadian Senate, Noel Kinsella, on Wednesday. During the meeting, both officials emphasized the historically good and important relations between the two countries, LETA was informed by the Presidential Press Service.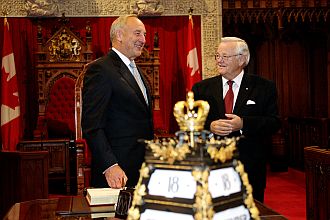 Andris Berzins and Noel Kinsella. Ottawa, 18.09.2013. Photo: president.lv
President Berzins particularly pointed to Canada's significant role after World War II, when several tens of thousands of Latvians who had been forced to leave their homes found a second home in Canada, becoming actively involved in the country's life and making a contribution toward its development. The president also thanked Canada for its consistent policy of non-recognition with respect to Latvia's incorporation into the USSR, as well as for the fact that Canada was the first G7 country to recognize Latvia's restored independence in 1991. The renewed diplomatic relationship between the two countries has now lasted for 22 years.
Speaker Kinsella, for his part, said that he has considerable experience in developing parliamentary relations between Latvia and Canada, particularly focusing on ways of expanding economic cooperation between the two countries, not least in terms of the opportunities. He also pointed out to the potential of Latvia's ports. The speaker also said that he has visited Riga and Ventspils in Latvia, thus emphasizing Canada's interest in ports in the two cities.
Kinsella believes that there is potential for future cooperation between the aforementioned Latvian ports on the one hand and Canadian ports at Halifax and Saint John's on the other. "There are no obstacles between our countries apart from a body of water," Kinsella said, adding that among the three elements, water is the one which ensures growth and development. For that reason, he added, there are excellent opportunities for growth and development in the relationship between Latvia and Canada.
President Berzins informed his host about Latvia's economic development, emphasizing the fact that Latvia plans to have economic growth at an average level of a four percent annual increase in GDP over the next several years. He also spoke about Latvia's readiness to join the euro zone in January 2014, arguing that that was the best choice which Latvia could make in terms of its monetary policies.
President Berzins went on to thank Canada for its support for Latvia's bid to join the Organization for Economic Cooperation and Development (OECD). In terms of challenges which Latvia is facing at this time, Berzins said that it is necessary to improve the quality of education and halt emigration as soon as possible, also adding that it is necessary to reach the average European Union level as soon as possible when it comes to per capita income.
In the area of emigration, Speaker Kinsella discussed his views about the role thereof in the modern world, noting that the situation today is different than that which prevailed after World War II. The speaker said that the freedom of movement and mobility for younger generations allows each individual to expand his or her range of contacts and to return to the home country with much broader knowledge and greater experience.
President Berzins offered his views about Latvia's foreign policy priorities at the regional and international level, particularly focusing on opportunities for cooperation among the Baltic States, Poland and Finland in the area of energy independence. He added that of importance to Latvia is a partnership with the countries of the EU's Eastern Partnership program and with Central Asian countries – a region to which a great deal of attention has been devoted in the past year. "All of the countries which we visited wish to be truly independent, and Latvia can play a very important role not just in terms of expanding economic contacts with Central Asia, but also in terms of serving as a partner and advisor in the strengthening of government institutions," he said.
Speaker Kinsella praised Latvia's foreign policy efforts, adding that this will help to develop the relationship between Latvia and Canada in a new way: "I see Latvia as a strategic partner for Canada in terms of the Eastern Partnership countries and Central Asia," he said. Kinsella also said that expanded economic relations between Latvia and Russia are a good thing, because this indicates the presence of pragmatic policies between the two neighboring countries.
At the conclusion of the meeting, both officials agreed that the level of bilateral relations between Latvia and Canada is very important both countries, particularly in terms of geopolitical significance.