International Internet Magazine. Baltic States news & analytics
Monday, 28.05.2018, 12:51
President of Latvian Statistical Bureau with Eurostat Director General
Sanda Rieksta, Statistics Latvia, 04.04.2013.

Print version
Today, on April 4, President of Central Statistical Bureau of Latvia (CSB), Aija Žīgure, had a meeting with the Director General of statistical office of the European Union (Eurostat), Walter Radermacher.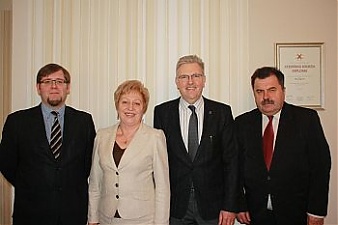 Vice President of CSB Norberts Tālers, President of CSB Aija Žīgure, Director General of Eurostat Walter Radermacher, Vice President of CSB Kaspars Misāns. Photo: csb.gov.lv
The aim of the meeting was introduction to the strategic directions of development in Latvia official statistics and topicalities in the European Statistical System (ESS).
As it was pointed out by Mrs. A.Žīgure, previous meeting at this level was held three and a half years ago; since then major changes in Europe and world have occurred, including economic recession and return to the growth. During the meeting Mrs. A.Žīgure told about strategic directions of development in Latvia official statistics and main CSB strands.
"Currently Latvian statistical system is decentralised, as collection, processing and analysis of statistical data is engaging 27 various state institutions. The role of the CSB as the leading statistical body should be supported, and utilisation of the administrative data in production of statistics should be increased," mentioned CSB President.
While Mr. V.Radermacher identified future challenges of Eurostat, as also statistical office of the EUis mowing towards the modernisation of statistics and trying to keep up with the directions of statistics development followed by Member States.
"Data are of a great significance in the information society," noted Mr. V.Radermacher. "Decision-makers not always are fully informed, and high-quality data not always are timely available. Therefore our challenge is marketing statistical products in a way they meet the data user needs."
Mr. V.Radermacher emphasized that statistics should move towards the improvement of efficiency and standardisation, e.g., introduce common data processing methods in all countries. He mentioned that in future Member States will be able to use pre-developed and verified ESS solutions, thus saving resources. Currently ESS within 27 countries is employing 50 000 persons.
Director General of Eurostat pointed out also the significance of institutionalization: "Instead of being 27 separate countries we are 27 partners. Together we are institutions that should produce high-quality information. As statistics is utilised for cross-boarder decision-making, e.g., on allocation of EU funding, data should be of a high-quality and credible."
The meeting was held within the framework of Mr. V.Radermacher's two-day visit in Latvia, during which he is meeting also the Minister of Economics, President of the Bank of Latvia and Minister of Finances. Before visit to Latvia the Director General of Eurostatmet also the leading officials of Lithuania.