International Internet Magazine. Baltic States news & analytics
Saturday, 26.05.2018, 10:56
Andris Strazds: no reasons to await repeat of Great Depression
Nina Kolyako, BC, Riga, 04.11.2008.

Print version
The current global financial crisis and the resulting recession is by no means comparable with the Great Depression of the 1930s in the U.S., professor at Stockholm School of Economics in Riga, economist Andris Strazds said in an interview.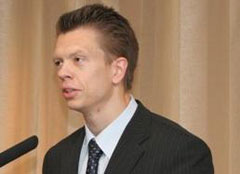 Andris Strazds.
"It is not right to draw parallels with the Great Depression and to say that now there is a lost decade ahead for us," economy expert underlined LETA.
The Great Depression was caused by the huge inequality of income distribution, as 5% of U.S. population were earning one third of the country's total income, as a result of which the determinant factors in economy development were investments and luxury goods market. Furthermore, at that time U.S. bank system was badly arranged – there was a large number of small banks and in case of a bank's bankruptcy, people, who had deposited money in the bank, lost all their savings.
Currently the income is more equally divided, the banking system is more centralized, the state has the options to interfere and to prevent the collapse of the financial system as such. A crucial introduction is the deposit warranty system, which did not exist in the 1930's.
Also, government decisions of that time aggravated the Great Depression – the government raised taxes and cut down government expenses at the moment when it was necessary to stimulate the economy, also the U.S. central bank's actions proved to be faulty.
Strads pointed out: "At that time when the system needed additional money reserves, U.S. Central Bank did not supply them, which created a bankruptcy wave of central banks. It happened not only because the banks had lost their capital but also due to liquidity problems."
"Under the current circumstances, the central banks all around the world are doing exactly the opposite by flowing large assets into financial markets in order to secure liquidity, therefore it is impossible for the same scenario as in 1930's to repeat now," the economist underlined.