International Internet Magazine. Baltic States news & analytics
Wednesday, 16.04.2014, 13:48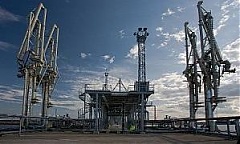 16.04.2014
Tougher sanctions on Russia would harm the business interests of several companies trading with our Eastern neighbour but companies have taken that into account and the effect on the Estonian economy as a whole should most likely be smaller than in Latvia, where transit and trade relations with Russia are closer, writes Äripäev/LETA.
14.04.2014
Statistics Lithuania informs that, based on provisional data, in 2013, the value added per hour actually worked in the whole economy amounted to, on average, LTL 45.32 at current prices, which is by LTL 1.96 more than in 2012. The gross value added per person employed amounted to LTL 83 447.
14.04.2014
Compared to February 2013, industrial production output in Latvia decreased by 1.7% in February 2014 – the fourth largest reduction in the European Union, according to the EU's statistical office Eurostat. The largest year-on-year reductions were registered in the Netherlands – by 8.9%, Finland – by 5.4%, and Lithuania – by 2.1%, writes LETA.
14.04.2014
In March 2014, 3 out of 5 (59%) Lithuanians said that in their opinion housing prices would increase in the short run. 21% of residents expected that housing prices in the coming 12 months would remain the same, while 9% of those polled thought that housing prices in Lithuania would decline, a survey commissioned by SEB bank revealed, cites LETA/ELTA.
14.04.2014
In an interview to the Spanish newspaper ''El Mundo'', Latvian Foreign Minister Edgars Rinkevics (Reform Party) said that there will be no winner in the Ukraine crisis, and that only European Union and NATO membership is able to offer member states necessary stability, cites LETA.
14.04.2014
Banking group SEB's pan-Baltic survey of the CFOs of larger enterprises indicates cautious optimism, with Estonian enterprises more conservative in their forecasts than their neighbors to the south, SEB said in a statement. The main concerns for larger Baltic enterprises are the same: demand, labor costs and price of raw materials, writes LETA.
14.04.2014
In early April 2014, the retail price for 95 octane gas in Latvia was EUR 1,319 per 1,000 liters – the fifth lowest price in the European Union, according to the European Commission's data on fuel prices in the EU, reports LETA. In Lithuania, 95 octane gasoline cost EUR 1,329.96 per 1,000 liters, the seventh lowest price in the EU, whereas in Estonia – EUR 1,302 per 1,000 liters, the third lowest price.
11.04.2014
In 2013 as compared to 2012 the number of foreign travellers and their expenditure has increased, according to the data of Central Statistical Bureau (CSB). In 2013 foreign travellers crossed the border of Latvia 5.8 mln times, which is more by 4.5% than in 2012.
11.04.2014
A study conducted by the Finnish social insurance board indicated that from around 60,000 Estonians who worked in Finland in 2013, 70% paid their social insurance taxes there, LETA/Public Broadcasting reports.
11.04.2014
Lithuania's credit rating was raised two notches by Standard & Poor's on a stronger-than-expected fiscal performance and higher prospects the Baltic nation will qualify for euro adoption in 2015, LETA/ELTA reports, referring to bloomber.com.
11.04.2014
In 2013, the proportion of those aged 30 to 34 who had completed tertiary education increased compared with 2002 in all Member States, Eurostat, the statistical office of the European Union has announced, cites LETA.