International Internet Magazine. Baltic States news & analytics
Monday, 20.05.2013, 18:55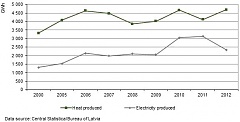 20.05.2013
In 2012, in Latvia there were 133 active combined heat and power (CHP) plants with total electrical capacity 1021.0 megawatts (MW). Provisional data compiled by the Central Statistical Bureau of Latvia show that 70.1% of the total heat generated by CHP plants were produced in Riga. CHP plants produced 2339 gigawatt hours (GWh) of electricity and 4688 GWh of heat – 62.9% of the total heat produced.
20.05.2013
To solve unemployment problems public bodies, business, academics and non-governmental organizations have defined the main directions for increasing employment in Lithuania: by encouraging business and creating new jobs, reports LETA/ELTA.
18.05.2013
Prime Minister of Lithuania Algirdas Butkevicius says that in the development of employment program, business, the Government, education and the youth have to cooperate, reports LETA/ELTA.
17.05.2013
According to Statistics Estonia, in 2012, museum visits amounted to 3.04 million. Compared to a year earlier, the number of visits to museums increased by 14%.
17.05.2013
New automobile registrations in Latvia fell by 10% in April, the fifth steepest decrease in Europe, according to the European Automobile Manufacturers Association's latest report. New car registrations in Lithuania reduced by 1.9% to 1,043 new automobiles, the third smallest decrease across Europe, informs LETA.
17.05.2013
The number of emigrating Lithuanians is falling, while the share of those returning to homeland is growing. Statistical trends seem rather positive. However, if one looks closer at specific numbers, he or she will understand that emigration is still a bleeding wound, writes LETA/ELTA, referring to Respublika.
17.05.2013
In an international study on racism, Latvia ranks high on the list of societies which are tolerant towards other races, writes LETA, referring to the U.S. newspaper ''Washington Post''.
17.05.2013
Compared to the first quarter of 2012, the number of real estate purchase transactions increased 13.8% in Latvia in the first quarter of 2013, according to the analysis of the Land Register's data by the real estate company Latio, writes LETA/Nozare.lv.
16.05.2013
The provisional data of the Central Statistical Bureau show that in the first quarter of the year 2013 the volume of goods exported at current prices increased by LVL 117.1 mln or by 7.7%, but at the same time volume of imports – only by LVL 25.8 mln or by 1.3% as compared to the first quarter of previous year.
16.05.2013
Unemployment of young people is serious problem faced in Latvia, as unemployment among youth is notably higher than in other age groups, as it can be concluded basing on the Labour Force Survey results compiled by the Central Statistical Bureau of Latvia.
16.05.2013
The European Commission's post-program surveillance mission notes in a report that there are serious shortcomings in the reforms being implemented in Latvia, and says that the European Commission will keep a close eye on these reforms, informs LETA.