International Internet Magazine. Baltic States news & analytics
Saturday, 25.11.2017, 11:17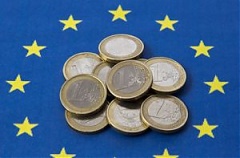 24.11.2017
In mid-November 2017, negotiations on the EU budget for 2018 have been finalized. Total commitments for common EU issues are set at about €160.1 billion and payments reached nearly €144.7 billion. Smart and inclusive growth (with € 66,6 bln), as well as new directions in sustainable growth (with € 56 bln) occupy main priorities in the 2018 budget.
24.11.2017
16% of young people in Latvia would start their own business or would work in a family-run business, said Swedbank spokeswoman Kristine Jakubovska, citing the bank's recent survey, informs LETA.
24.11.2017
During the first ten months of 2017, Latvia showed the fourth fastest drop in the registration of new commercial transport vehicles (trucks and buses) in Europe, informs LETA, according to the latest data released today by the European Automobile Manufacturers' Association (ACEA).
23.11.2017
A total of 2.321 million people stayed at Lithuania's hotels, guesthouses and other accommodation establishments during the first three quarters of 2017, a rise of 6.1% on the same time last year, figures from Statistics Lithuania showed on November 23rd, cites LETA/BNS.
23.11.2017
The November 23rd marks the first anniversary of the government of Estonian Prime Minister Juri Ratas, informs LETA/BNS.
23.11.2017
As many as 46% of Latvia's population feel financially vulnerable, writes LETA, according to a survey by SEB Banka carried out in all three Baltic states.
22.11.2017
Data of the Central Statistical Bureau (CSB) show that, compared to September, in October 2017 the level of producer prices in Latvian industry dropped by 0.2%. Prices of products sold on the domestic market decreased by 0.5%, while prices of exported products went up by 0.1%. Prices of products exported to euro area countries rose by 0.2%, whereas prices of products exported to non-euro area countries almost did not change.
22.11.2017
Statistics Lithuania informs that in October 2017, based on provisional data, industrial production totalled EUR 1.79 billion at current prices and, compared to September, seasonally and calendar adjusted, decreased by 1% at constant prices (unadjusted – increased by 2.2%).
22.11.2017
EU and global economies are facing "labour problems": in various states angry workers denounce both a shortage of jobs and low wages. Besides, robots already appear to be a threat to workers being able to replace millions of humans. Another issue is that of the basic income: the idea attracts attention around the world providing potentials for a universal social safety net implementation.
22.11.2017
Estonian 15-year-old students achieved the best score among European countries in a global PISA collaborative problem-solving assessment based on data for 2015, informs LETA.
22.11.2017
The overall passenger traffic in Lithuania increased by 0.4% in the first three quarters of 2017 from a year ago to 285.164 million, informs LETA/BNS, according to estimates released by the country's statistics office on Tuesday.