International Internet Magazine. Baltic States news & analytics
Monday, 04.05.2015, 03:55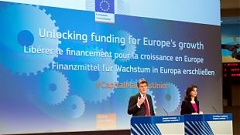 30.04.2015
The EU's history shows problems in the European financial market integration. Integration in capital markets means making member states' economic resources expand and ensure that the financial system supports growth and jobs. The annual conference held jointly by the Commission and the ECB showed the perspectives in financial stability, financial services and capital markets union.
30.04.2015
According to Statistics Estonia, in March 2015, the production of industrial enterprises increased by 1% compared to March of the previous year. Production increased in manufacturing, but decreased in mining and energy production.
30.04.2015
Latvians are comparatively more reserved and less open to close relations with people of other nationalities, according to a study on national identity, civil society and integration policy aspects in Latvia, reports LETA.
30.04.2015
The landscape fires in Ukraine, in the vicinity of the Chernobyl nuclear power plant, have not increased the radiation level in Estonia, Public Broadcasting cites the Environment Board.
30.04.2015
Statistics Lithuania informs that in March 2015, compared to February, construction input prices decreased by 0.5%. The change was mainly influenced by a 1.3% decrease in wages and salaries. Over the year (March 2015, against March 2014), construction input prices increased by 1%.
30.04.2015
On the average, residents believe that EUR 625.64 a month per family member would be sufficient to get by, according to the latest "DNB Latvia Barometer" study, reports LETA.
30.04.2015
Foreign investors consider instability and shadow economy the main problems that limit the competitiveness of Latvian economy, as EY Partner Guntars Krols said during a discussion on competitiveness and investment environment of Latvia, reports LETA.
29.04.2015
Data of the Central Statistical Bureau (CSB) show that in 2014 as compared to 2013 producer prices in Latvian agriculture decreased by 8.2%.
29.04.2015
According to the data of the Central Statistical Bureau of Latvia (CSB), compared to February, level of construction costs in Latvia in March 2015 reduced by 0.1%. Prices of building materials dropped by 0.4%, but labour remuneration of workers increased by 0.1% and maintenance and operational costs of machinery and equipment – by 0.2%.
29.04.2015
Freedom of the press around the world has plummeted to the worst level in a decade, a survey warned Wednesday, with the United States and China both tightening the noose, reports LETA/AFP.
29.04.2015
Despite an increase in the number of residents who have a negative opinion of Prime Minister Laimdota Straujuma's (Unity) performance, the premier told the LNT television this morning that she was not planning to resign, and that she had no information that her resignation had been discussed within Unity, informs LETA.