International Internet Magazine. Baltic States news & analytics
Monday, 24.10.2016, 17:03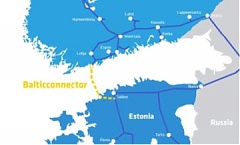 24.10.2016
Gas interconnector between Finland and Estonia will boost security of supply and bringing economic lift to the region. When the gas starts flowing in 2020, the project will unite the Eastern Baltic Sea region with the rest of the EU energy market. This and other project are parts of the EU's energy union and aim at building missing energy links, improving supply and ending the energy isolation of the Baltic States.
21.10.2016
Several years ago "economics guru" could argue that economic growth is hindered by "expensive money". Nowadays, with historically low interest rates and Latvian commercial banks literally rolling in money (having 3 billion euro on corresponding accounts with Latvijas Banka), the economic growth is indeed weak. Despite the fact that politicians have been mentioning the word "reforms" for years and the need to address bottlenecks in crucial sectors is obvious to everyone, little is being done in reality, and the majority of true reforms die out because of red tape.
21.10.2016
The recovery of the dairy market will depend on oil prices and the decline of milk production volumes in southern Europe and New Zealand, Raimondas Karpavicius, chairman of Marijampoles Pieno Konservai operated by Russian-Liechtenstein joint venture Eksimeta, told Verslo Zinios business daily writes LETA/BNS.
21.10.2016
According to Statistics Estonia, in the 3rd quarter of 2016, the construction price index increased 0.7% compared to the 2nd quarter of 2016 and fell by 0.7% compared to the 3rd quarter of 2015.
21.10.2016
According to a survey carried out by the employment portal cvmarket.lv, 86 % of employees in Latvia have official employment contracts and pay all taxes, informs LETA.
21.10.2016
In August 2016, Latvia's current account had a surplus of EUR 0.03 bln, which was the second smallest surplus among EU member states, reporting their current account data, the EU's statistics office Eurostat informed.
20.10.2016
Alcohol bought in Latvia makes up roughly 6 % of the total amount of booze bought by Estonians, whereas in South Estonia the ratio is as high as 18 %, a survey taken by Emor in mid-August indicates informs LETA.
20.10.2016
Demographic trends are going to have the most significant impact on the Baltic real estate market in following years, Morten Hansen, the head of the Economics Department at the Riga Faculty of the Stockholm School of Economics, said at the Baltic Real Estate Leaders Forum today.
20.10.2016
According to Statistics Estonia, in September 2016, the producer price index of industrial output changed by 0.1% compared to August 2016 and by -0.9% compared to September 2015.
20.10.2016
The average age of automobiles in Latvia is the second oldest in Europe, furthermore, major defects are found in 50% to 80% of automobiles during the annual vehicle inspections, as Janis Liepins, head of the Road Traffic Safety Directorate's Vehicle Technical Control and Certification Inspection, told Saeima Mandate, Ethics and Submissions Committee today, writes LETA.
19.10.2016
Data of the Central Statistical Bureau (CSB) show that 63.5 % of enterprises1 in Latvia had a website at the beginning 2016, which was 4.5 percentage points more than in 2015. Similarly to previous years, at the beginning of the present year a website was set up by most of the accommodation service and information and communication service providers (95.6 % and 93.6 %, respectively). In turn, retail enterprises (48.4 %) and enterprises of the transportation and storage sector (42.9 %) did not have as many websites.