International Internet Magazine. Baltic States news & analytics
Sunday, 26.10.2014, 07:06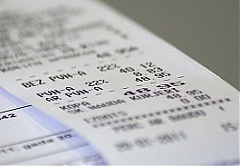 24.10.2014
An estimated EUR 177 billion in value added tax (VAT) revenue was lost in the European Union due to non-compliance or non-collection in 2012, according to the latest VAT Gap study published by the European Commission. This equates to 16% of total expected VAT revenue of 26 member states, reports LETA.
23.10.2014
The Central Election Commission in Latvia confirmed the final results of the 12th Saeima elections on October 22nd, informs LETA.
22.10.2014
78% of economically-active residents of Latvia, aged between 18 and 55, are in favor of a president elected by popular vote, according to a survey conducted by TNS and LNT television, reports LETA.
22.10.2014
Lithuania was named number-three destination in Lonely Planet's list of best countries to visit in 2015.
22.10.2014
Prime Minister Laimdota Straujuma's (Unity) political goal, as the head of the new government, will be to increase the welfare of Latvian families.
22.10.2014
Statistics Lithuania has implemented the methodological requirements set in Regulation (EU) No 549/2013 of the European Parliament and of the Council of 21 May 2013 on the European system of national and regional accounts in the European Union (ESA 2010) and carried out a revision of the time series of general government finance and national accounts aggregates. In 2013, according to the revised data, the general government deficit totalled LTL 3163.3 million (EUR 916.2 million), or 2.6% of GDP. Over the year, the general government deficit decreased by LTL 460.2 million (in 2012, this indicator stood at 3.2% of GDP).
22.10.2014
National budget deficit in Latvia in 2013 was at 0.9% of the Gross Domestic Product (GDP), which is the third lowest out of all the European Union (EU) countries, latest data provided by Eurostat shows, cites LETA.
21.10.2014
Compared to August, level of producer prices in Latvian industry in September 2014 rose by 0.1%, according to the data of Central Statistical Bureau of Latvia. In September 2014 compared to September of the previous year, the overall level of producer prices in the Latvian industry increased by 0.3%.
21.10.2014
Statistics Lithuania informs that in September 2014, industrial production totalled LTL 5.8 billion (EUR 1.7 billion) at current prices and, compared to August, grew by 6.9% at constant prices, seasonally adjusted – by 1.7%.
21.10.2014
General government budget deficit at the end of 2013 comprised EUR 199.6 million or 0.9 % of the Gross Domestic Product (GDP), and the general government consolidated gross debt comprised EUR 8875.9 million or 38.2 % of the GDP, according to the results of the October 2014 general government budget deficit and debt notification[1] compiled by Central Statistical Bureau (CSB), which has been made in line with the methodology of European System of Accounts (ESA 2010).
21.10.2014
There is no doubt that corrupt "tigers and flies," cadres from the top to bottom ranks, are the losers in China's anti-corruption drive. But who are the winners?