International Internet Magazine. Baltic States news & analytics
Sunday, 26.06.2016, 09:18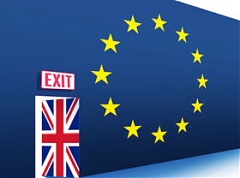 24.06.2016
Financial turmoil and a long-term threat to Britain's global influence are the result of the 'Brexit' vote announced today following the UK referendum on European Union membership, reported BC the European Council on Foreign Relations (ECFR).
22.06.2016
Statistics Lithuania informs that in May 2016 industrial production totalled EUR 1.5 billion at current prices and, compared to April, seasonally and calendar adjusted, increased by 3.8% at constant prices (seasonally and calendar unadjusted – 8.1%). In May 2016, against May 2015, calendar adjusted, industrial production decreased by 0.2%.
22.06.2016
Present agreement among EU member states shows common approach towards far-reaching new rules to eliminate the most common corporate tax avoidance practices. It follows the agreement among OECD countries on recommendations to limit tax base erosion and profit shifting (BEPS).
22.06.2016
Lithuania produces more meat per capita than the other two Baltic countries, data from Statistics Lithuania showed on June 22nd, cites LETA/BNS.
22.06.2016
There are options for Latvia to increase tax revenue but difficult decisions will be required and major adjustments will have to be made to the tax system, the World Bank experts have concluded, informs LETA.
22.06.2016
After six months of debates, Lithuania's Seimas (parliament) on June 21st adopted a new much-disputed Labor Code, which, if signed into law by President Dalia Grybauskaite, will come into effect from 2017, informs LETA/BNS.
21.06.2016
Data compiled by the Central Statistical Bureau (CSB) show that compared to April, in May 2016 the level of producer prices in the Latvian industry decreased by 0.2%. The level of prices of products sold on the domestic market decreased by 0.3%, whereas for exported products it decreased by 0.1%. The level of producer prices of exports to euro area countries dropped by 0.1%, while it remained unchanged for exports to non-euro area countries.
21.06.2016
A total of 1.743 million passengers went through Lithuania's airports during the first five months of 2016, a rise of 14.7% on the same time last year, preliminary data from Statistics Lithuania showed on June 21st, cites LETA/BNS.
21.06.2016
Non-residents held 71.9% of total government debt in Latvia in 2015, which is the sixth largest share in the EU, according to the Eurostat information. Lithuania's share was even third, informs LETA.
21.06.2016
The International Monetary Fund (IMF) in its latest report about Latvia emphasized the need for continued structural reforms in the country, informs LETA.
21.06.2016
The migration crisis is not solely a European concern but a global problem, Estonian Foreign Minister Marina Kaljurand said in a statement on the occasion of World Refugee Day, cites LETA/BNS.