International Internet Magazine. Baltic States news & analytics
Wednesday, 22.02.2017, 10:24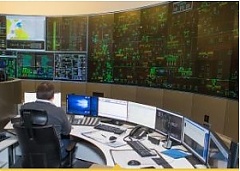 21.02.2017
In 2016, the final electricity consumption in Lithuania totalled 10.47 kilowatt hours (or 10.47 terawatt hours, TWh). A record growth in the consumption was observed last year: residents, businesses, agriculture and transport used 4.5% more electricity compared to 2015. The growth rate in agriculture was as high as 8.4%, service sector 5.7%, residents 4.3%, and transport sector 4%. The lowest year-on-year growth rate (3.5%) was recorded in the industrial sector.
17.02.2017
Lithuania in the fourth quarter of 2016 registered the largest quarterly increase in construction output in the European Union, figures from the EU statistical office Eurostat showed on Friday.
17.02.2017
The availability of financing of companies is aided by good access to bank lending, low interest rates, and profits built up earlier Companies are borrowing more than before from Estonia, and less from abroad Growth in household loans accelerated in 2016, but remained slower than growth in incomes and savings. The loan portfolio to companies and households will grow by around 5% in the years ahead, which is about the same rate as nominal GDP
17.02.2017
Provisional data of the Central Statistical Bureau (CSB) show that 716.0 thousand hectares of land were covered with cereals in 2016 – 43.6 thousand hectares or 6.5 % more than in 2015, leading to the largest cereal cropland area observed since 1984. Harvested production of grain has diminished; half of the harvested winter wheat were produced in Zemgale
17.02.2017
Small and medium-sized enterprises of the Baltic states are less optimistic than previously in their outlooks for the new business year and even 31% of Estonian SMEs expect turnover to fall in 2017, SEB's annual Baltic business barometer survey showed.
16.02.2017
The annual inflation in January continued to climb rapidly – consumer prices rose by 2.9% year-on-year. Within five months, inflation, starting at zero, reached an impressive level. There is no reason to expect similarly fast inflation rise during the next few months. All this year, however, inflation will remain close to 3%.
16.02.2017
Flying has become one of the most popular means of travel throughout the world. An internet survey carried out by SmartLynx Airlines, the leading charter carrier in Latvia and Estonia, revealed that 74% of respondents use airline services for private trips, while one in four (26%) mostly travel for business. Respondents said that price is the main criterion in purchasing airline tickets.
16.02.2017
According to a survey on the attitudes residents have regarding the Rail Baltica high-speed rail project, 89 percent of Latvian residents support the project, which is three percentage points more than a year ago, the head of communications at SIA Eiropas Dzezlcela Linijas Rita Voronkova told LETA.
15.02.2017
Estonia climbed from ninth to sixth place on the Heritage Foundation and Wall Street Journal (WSJ) 2017 index of economic freedom published on Wednesday writes LETA/BNS.
15.02.2017
In 2016, 2.3 mln visitors were hosted at Latvian tourist accommodation establishments, which was 7.7% more than the year before. According to the latest data of the Central Statistical Bureau (CSB), the respective indicator has increased by 75 % from the 1.3 million hosted in 2010. As compared to 2015, the number of nights spent by visitors has increased by 7.5%. The average duration of a visitor's stay at an accommodation establishment was 1.9 nights.
15.02.2017
Rietumu Group specialists have prepared a review of the profitability of investment funds of Rietumu Asset Management in January. The review includes an analysis of key economic indicators, the monetary policy. It provides comprehensive information on the situation on stock markets, bond, currency and commodity markets. The review is accompanied with extensive comments from experts.