International Internet Magazine. Baltic States news & analytics
Wednesday, 23.05.2018, 21:49
PM: events taking place in Southern Europe do not have direct impact on Latvia's development
Nina Kolyako, BC, Riga, 02.07.2012.

Print version
The events currently taking place in Southern Europe, where some countries are going through economic troubles, do not have a direct impact on Latvia's economic development, as these countries are not Latvia's most important trade partners, Prime Minister Valdis Dombrovskis told LETA in a telephone interview from Brussels on Friday.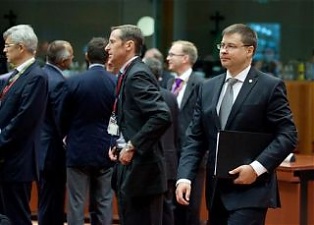 Valdis Dombrovskis in Brussels. Phioto: flickr.com
''Of course if this crisis, for example, slows down Germany's economic development, this would have direct effect on Latvia,'' the prime minister said.
The prime minister said that the situation in the region remains relatively good, as economic development in countries such as Estonia, Lithuania, Russia, Poland, Germany and the Nordic countries, which are Latvia's main trade partners, are positive.
''Basically, we see that the Baltic Sea region is the fastest developing region in the European Union,'' the politician added.
As reported, European Parliament Member Krisjanis Karins (Unity) said in an interview on "Rietumu Radio" last week that instability and debt crisis in Southern European countries are doing Latvia no good and threaten the country's further growth.
According to Karins, peaceful external conditions are required for Latvia's growth so that exporters could develop and the country ensure the nation's welfare.
Karins explained that the economies of Latvia's main trade partners – the Baltic Sea countries – are highly stable. He emphasized that the stability of Germany's economy is very important and serves as a buffer between the Baltic Sea countries and Southern European countries.
The politician also admitted that it is still not clear how Southern European countries will solve their issues. Their societies have still not realized or do not want to realize that they must change their behavior, just like the Baltic States had to, said Karins.