International Internet Magazine. Baltic States news & analytics
Tuesday, 24.04.2018, 19:36
Dombrovskis: relations between Latvia and U.S. are on a very good level
Alla Petrova, BC, Riga, 28.06.2012.

Print version
Greeting visiting United States Secretary of State Hillary Clinton at the Cabinet of Ministers' building today, Prime Minister Valdis Dombrovskis (Unity) admitted that Clinton's visit shows that relations between Latvia and the United States are on a very good level.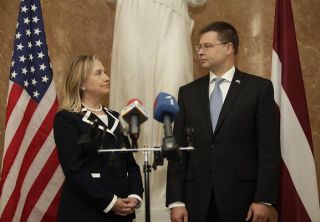 Hillary Clinton and Valdis Dombrovskis. Riga, 28.06.2012. Photo: flickr.com
"I would like to hope that these relations will continue to develop in such a positive way as until now," Dombrovskis said.
He also pointed out that the visit by the U.S. secretary of state is proof that Latvia and the U.S. are strategic partners, and demonstrates the United States' interest in maintaining bilateral relations, writes LETA.
The prime minister informed that during today's meeting with Clinton, the two sides intend to discuss topics related to bilateral relations, including cooperation within various international organizations, as well as the economic situation in Latvia and Europe.
"At the same time, we also intend to discuss matters related to energy policies in the region, where the United States' expertise could be of much use to us," Dombrovskis said.
On the other hand, Clinton emphasized that the U.S. is proud to be a partner of independent Latvia, and highly values its cooperation with this country. She also praised the tough decisions Latvia made during the economic crisis in order to ensure stability and restore growth.
At the same time, Clinton said that she also highly values the cooperation between the United States and Latvia within NATO, as well as praised Latvia's participation in the mission in Afghanistan.
The U.S. secretary of state also reminisced on her visit to Latvia in 1994 together with her husband Bill Clinton, who was the president of the United States at the time. She said that she was a witness to the first years of Latvia's independence. "For everything you have achieved during these years, I wish to praise the Latvian people," Clinton pointed out.
As reported, United States Secretary of State Hillary Clinton is on a visit to Latvia today.
During the visit, Clinton will meet with Latvia's highest officials, including Prime Minister Valdis Dombrovskis, Foreign Minister Edgars Rinkevics and President Andris Berzins.
Latvia is the 100th country that Clinton has visited since taking office as secretary of state.
U.S. State Department spokeswoman Victoria Nuland previously pointed out that there will be a wide range of topics discussed during Clinton's visit to Latvia.
While in Riga, Clinton will also participate in a street renaming ceremony in honor of former Under Secretary of State Sumner Welles, whose Welles Declaration formalized the U.S. refusal to recognize the forced incorporation of the Baltic Republics into the Soviet Union.
Clinton also will have informal meetings with local youths and representatives of non-governmental organizations at the University of Latvia.