International Internet Magazine. Baltic States news & analytics
Friday, 24.05.2013, 21:49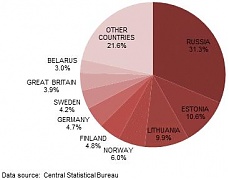 24.05.2013
The number of visitors in hotels and other accommodation establishments1 in the 1st quarter of the year 2013 in Latvia comprised 301.3 thousand people. That is 5.9% more than in the 1st quarter of 2012.
24.05.2013
Power utility Latvenergo and brewery Aldaris have received the highest assessment in the 2013 Sustainability Index, informs LETA/Nozare.lv.
24.05.2013
The prices rising less and increased wages allow for forecasts of growth in domestic demand, which in the nearest future will be an important factor of economic expansion, as is projected by the Bank of Lithuania, reports LETA/ELTA.
24.05.2013
Yesterday, President Andris Berzins met with representatives from the Foreign Investors' Council in Latvia (FICIL) to become familiar with their vision on stable and sustainable economic growth, and to discuss potential improvement in rule of law, judicial system efficiency, fair competition and investment protection, LETA was informed by the Presidential Press Service.
23.05.2013
Compared to March, the overall level of producer prices in Latvian industry in April 2013 increased by 0.1%, according to the data of Central Statistical Bureau of Latvia. Compared to April of previous year, the producer prices in Latvian industry grew by 1.4%.
23.05.2013
The government should not hesitate with reducing the tax burden in the country because this may affect the situation on the labor market and contribute to the continuing emigration, which in turn will impact Latvia's competitiveness on the European Union market, businessmen told the Nozare.lv business portal, cites LETA.
23.05.2013
Economy Minister Daniels Pavluts allows for the possibility of bringing in from abroad qualified workers for certain sectors in Latvia in the future, informs LETA/Nozare.lv.
23.05.2013
Residents actively using cash pay-in ATMs is proof that the share of the shadow economy has not lessened and the amount of gray money remains considerable in Latvia, Latvian Free Trade Unions' Association Chairman Peteris Krigers points out in an interview with the newspaper Diena, reports LETA.
23.05.2013
According to a study carried out by the Baltic automobile ad web-site Autoplius, Estonia has the highest proportion of automobiles in the Baltics – 0.51 automobiles per person, Lithuania on average has 0.40 automobiles per person, while Latvia has 0.33 automobiles per person, or approximately one automobile per every three persons, informs LETA/Nozare.lv.
23.05.2013
According to the data of 2012, in Estonian emigration the movement takes place towards the countries offering bigger economic welfare. People emigrate from Estonia mainly to Finland and the United Kingdom and people immigrate to Estonia from Finland and Russia.
23.05.2013
The information about state administration institutions' reckless spending on various purchases and the organization of office parties and other entertainment events by state institutions last year shows lack of respect for taxpayers, believes State Chancellery's Director Elita Dreimane.