International Internet Magazine. Baltic States news & analytics
Monday, 25.09.2017, 05:30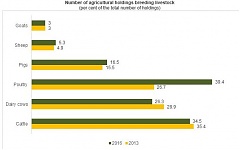 22.09.2017
Provisional data of the Farm Structure Survey 2016 compiled by the Central Statistical Bureau (CSB) show that, in 2016 the average size of agricultural holding constituted 43.2 ha, which is 15.5% more than in 2013 when the average land area per holding accounted for 37.4 ha. The total standard output (SO) (1) has risen by 24.5%, nevertheless the number of economically active farms has reduced by 14.5%.
22.09.2017
Entrepreneurs in Riga Region, the central Latvian province of Zemgale and the western province of Kurzeme showed the highest business confidence in the second quarter of 2017, representatives of Citadele Bank told journalists citing the latest Citadele Index survey, cites LETA.
22.09.2017
Figures from a survey carried out by pollster Kantar Emor show that the ID card security risk exposed in the beginning of September did not impact the attitude of people in Estonia towards e-voting as those who previously deemed e-voting necessary still think so and those who were against it are still against it, informs LETA/BNS.
21.09.2017
According to data of the Central Statistical Bureau (CSB), compared to July, in August 2017 the level of producer prices in Latvian industry rose by 0.1%. Prices of products sold on the domestic market, as well as those of exported products grew by 0.1%. Prices of products exported to euro area countries decreased by 0.2%, whereas prices of products exported to non-euro area countries increased by 0.4%.
21.09.2017
Statistics Lithuania informs that in August 2017, based on provisional data, industrial production totalled EUR 1.7 billion at current prices and, compared to July, seasonally and calendar adjusted, increased by 3.2% at constant prices (unadjusted – 8.2%).
21.09.2017
Increase of productivity has become one of the major challenges in Latvia's economy, said banking analysts surveyed by LETA.
20.09.2017
According to Statistics Estonia, in August 2017, the producer price index of industrial output changed by 0.8% compared to July and by 4.7% compared to August 2016.
20.09.2017
The central Bank of Lithuania on September 20th increased its gross domestic product ( GDP) growth forecast for 2017, reports LETA/BNS.
20.09.2017
Danske Bank expects Latvia's gross domestic product (GDP) to grow 3.9% this year, the bank said in its latest Monthly Macro Update, reports LETA.
20.09.2017
Manufacturing shows the highest optimism compared to other business sectors in Latvia, according to the latest Citadele Index, cites LETA.
20.09.2017
Public sector enterprises and institutions, as well as companies with state capital are considered to be the most attractive employers in Latvia, a new survey by Kantar TNS pollster shows, cites LETA.