International Internet Magazine. Baltic States news & analytics
Friday, 21.07.2017, 09:39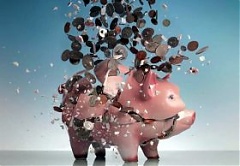 21.07.2017
The size of the government debt of Estonia measured as a ratio to gross domestic product (GDP) was 9.2% in the first quarter of 2017, the lowest such ratio among the EU member states, reports LETA/BNS.
20.07.2017
Wages of state officials might climb even by EUR 485-750 in the coming years as a result of the planned tax reform, said Latvijas Avize daily, cites LETA.
20.07.2017
The most pro-Western political party in Estonia is the opposition Reform Party, which places second on that criterion among the parties represented in the national parliaments of Europe and the European Parliament, a study by the European Council on Foreign Relations (ECFR), a well-known think tank, suggests, cites LETA/BNS.
19.07.2017
Latest data of the Central Statistical Bureau (CSB) show that in 2016 household consumption expenditure comprised on average 333 euros per household member monthly – 17 euros or 5.4% more than in 2015. Considering 0.1% increase in the consumer prices, consumption expenditure at constant prices rose by 5.3%.
18.07.2017
European Commission presented its White Paper on the Future of Europe in March 2017. Already four months after, the debate on the EU's future is picking up speed with potentially over 30 million citizens participated in discussions.
18.07.2017
The share of information and communications specialists among all individuals employed in Lithuania has grown in 2016, however, has remained among the lowest among all 28 members of the European Union (EU), Eurostat said on Tuesday, cites LETA/BNS.
18.07.2017
As part of the plan to relocate a number of state jobs out of Tallinn, decisions have been made regarding 70-80 jobs to move them to East-Viru county, Minister of Regional Affairs Jaak Aab told regional newspaper Pohjarannik, cites LETA/BNS.
17.07.2017
The harmonized annual inflation in the Baltic states remained the highest in the European Union (EU) in May 2017, Eurostat said on July 1th, reports LETA/BNS.
17.07.2017
The number of crimes committed in Estonia in the first six months of the year 2017 was smaller by 9% than during the same period in 2016, and also the numbers of manslaughters and murders declined, informs LETA/BNS.
17.07.2017
The majority of Latvian residents believe life in Riga is better than in other places of the country, according to a survey conducted by SKDS pollster, cites LETA.
14.07.2017
During the first five months of the year 2017, Latvian exports grew at the EU's average pace, according to the export growth data released by Eurostat on July 14th, informs LETA.