International Internet Magazine. Baltic States news & analytics
Sunday, 23.11.2014, 14:07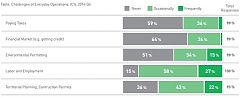 22.11.2014
Investor Confidence Index for Lithuania (ICIL) survey indicates increasing investor confidence in Lithuanian business environment. The upward trend has remain solid throughout the year and the overall index value reached 1.181 (out of maximum value of 2) in the last quarter of 2014. The positive expectations came through even despite the unpredictable geopolitical situation in Eastern Europe, reported BC ICIL press service.
21.11.2014
The average visitor of Riga is a 36-year-old middle-income male who travels by plane and stays in Riga for two-three days in a four star hotel, and spends about EUR 74.86 a day, reports LETA, referring to the latest study by the Riga Tourism Development Bureau.
21.11.2014
Estonian TV sets shopping survey shows that as time goes on, people buy smarter and bigger TV sets, LETA/Postimees Online reports.
21.11.2014
Google still remains the most visited Internet website in Latvia. On the average, 47.5% or 801,000 Latvian residents, aged between 15 and 74, visit Google on a daily basis, according to a study conducted by TNS, informs LETA.
21.11.2014
Consulting firm PwC places Estonia in its recent report among high tax burden states, LETA/Postimees Online reports.
21.11.2014
Young families in Lithuania are not any less economical than the previous generations, however, a common family budget, a very popular thing in the past, has been replaced by separate savings accounts for each spouse, a poll carried out by the bank DNB reveals, cites LETA/ELTA.
21.11.2014
The Lembergs family – Aivars, Anrijs and Liga Lembergs – is again the wealthiest family in Latvia this year, the total value of their properties is estimated at EUR 171 million – EUR 28 million down from 2013, according to a study carried out by journalists Lato Lapsa and Kristine Jancevska, corporate finance company Baltic Screen, and Lursoft, ciets LETA.
20.11.2014
Provisional data of the Central Statistical Bureau (CSB) show that in the academic year 2014/2015, 11.7 thsd students were enrolled in 62 vocational education institutions and 14 colleges implementing vocational education programmes.
20.11.2014
According to Statistics Estonia, in October 2014, the producer price index of industrial output changed by -0.9% compared to September 2014 and by -2.1% compared to October 2013.
20.11.2014
Latvia's star athletes Andris Biedrins and Sandis Ozolins have been placed on the list of Latvia's "odd" millionaires, informs LETA.
20.11.2014
For the third year in a row, owners of ABLV Bank, Olegs Fils and Ernests Bernis are at the top of Latvia's 100 wealthiest people – a list compiled by journalists Lato Lapsa and Kristine Jancevska, corporate finance company Laika stars, and Lursoft, cites LETA.