International Internet Magazine. Baltic States news & analytics
Thursday, 23.11.2017, 18:29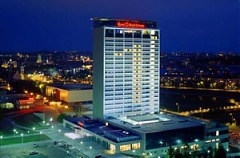 23.11.2017
A total of 2.321 million people stayed at Lithuania's hotels, guesthouses and other accommodation establishments during the first three quarters of 2017, a rise of 6.1% on the same time last year, figures from Statistics Lithuania showed on November 23rd, cites LETA/BNS.
22.11.2017
EU and global economies are facing "labour problems": in various states angry workers denounce both a shortage of jobs and low wages. Besides, robots already appear to be a threat to workers being able to replace millions of humans. Another issue is that of the basic income: the idea attracts attention around the world providing potentials for a universal social safety net implementation.
22.11.2017
Estonian 15-year-old students achieved the best score among European countries in a global PISA collaborative problem-solving assessment based on data for 2015, informs LETA.
22.11.2017
The overall passenger traffic in Lithuania increased by 0.4% in the first three quarters of 2017 from a year ago to 285.164 million, informs LETA/BNS, according to estimates released by the country's statistics office on Tuesday.
21.11.2017
Lithuania climbed to 18th place, from 27th a year ago, among 190 countries across the globe in terms of the ease of paying taxes, according to the latest study by PwC and the World Bank Group. Lithuania, however, is outperformed by both Latvia, ranked at number 13 in the Paying Taxes 2018 report, and by Estonia, at number 14, reports LETA/BNS.
21.11.2017
SEB has raised its 2017 economic growth estimate on Estonia to 4.1% and its 2018 estimate to 3.3%, writes LETA/BNS.
21.11.2017
ECEPR just released the report "The Geography of Europe's Brain Business Jobs" by Dr. Nima Sanandaji and Prof. Stefan Fölster. The report is financed by the investment firm Nordic Capital.
21.11.2017
According to Statistics Estonia, in October 2017, the producer price index of industrial output changed by 0.4% compared to September and by 3.7% compared to October 2016.
21.11.2017
Estonia placed 17th in the ICT Development Index 2017 (IDI) of the United Nations specialized agency International Telecommunication Union (ITU) with 8.14 points, while in 2016 Estonia placed 14th, reports LETA/BNS.
20.11.2017
Residents of Estonia consider migration as the biggest challenge for the European Union, it appears from a recent Eurobarometer survey, informs LETA/BNS.
17.11.2017
A special task force aims to ensure better EU policies implementation: the approach is called "doing less more efficiently". Recommendations are expected on: better application of subsidiarity and proportionality principles, on policy areas which could be re-delegated or returned to the EU states, and on showing ways of better involving regional and local authorities in EU policy implementation. Good ideas for Baltics to emulate…