International Internet Magazine. Baltic States news & analytics
Friday, 29.04.2016, 04:54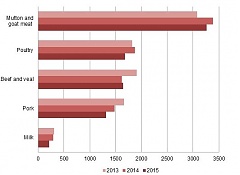 28.04.2016
Data of the Central Statistical Bureau show that, as compared to 2014, in 2015, due to 15.8% decrease in price indices of livestock products, especially decline in milk prices, price indices of agricultural output decreased by 7.5%. Price indices of crop products grew by 2.3%.
27.04.2016
Data of the Central Statistical Bureau (CSB) show that, compared to February 2016, in March 2016 level of construction costs in Latvia grew by 0.2%. Labour remuneration of workers went up by 0.7%, maintenance and operational costs of machinery and equipment – by 0.3%, while prices of building materials went down by 0.1%.
27.04.2016
A quarter of 315 business executives surveyed in Estonia by the global consultancy Ernst & Young in 2016 find that anti-corruption measures damage their firms' competitiveness on the Estonian market, the figure is practically unchanged from last year, reports LETA/BNS.
27.04.2016
Riga is the most expensive city in the Baltics to live in, according to a study done by Swedbank Institute of Finances, cites LETA.
27.04.2016
According to the National Audit Office of Estonia, the merger of the Police Board, Border Guard Board and Citizenship and Migration Board has been effective, but its future could be jeopardized by a continued decrease in the number of employees, informs LETA/BNS.
27.04.2016
Every year more and more companies are arguing with the SRS in respect of the additional VAT charges at the time of the audit in Latvia. A considerable amount of Tax Service decision is appealed in a higher institution and a court. Law Office INLAT PLUS deals with such cases for over 20 years and has positive results. According to general statistics, in about 20% of cases the court takes favourable decisions for companies. When considering similar cases, the Court is guided by quite clear criteria.
27.04.2016
In the first three months of the year 2016, the number of crimes committed in Estonia decreased 7% compared to the same period last year, informs LETA/BNS.
26.04.2016
Slightly more than 70,000 purchases on the average were made over the internet in Estonia per day in the first quarter of 2016, almost double the number of purchases made per day in 2012, the central bank said on April 26th, cites LETA/BNS.
26.04.2016
The Commission presented a progress report of the first six months since the adoption of the Capital Markets Union Action Plan last September. The first CMU status report shows that the EU helped mobilise capital in Europe and channel it to companies, including SMEs, infrastructure projects while expanding growth and create jobs. The Commission also presented new European Financial Stability and Integration Review, EFSIR.
26.04.2016
The Cabinet of Ministers in Latvia today approved the government's action plan and its supplement on the most important measures that have to be taken to promote Latvia's economic growth, informs LETA.
25.04.2016
Data of the Central Statistical Bureau (CSB) show that in 2015, 6.8 mln foreign travellers visited Latvia, which is 9.5% more than in 2014. Last year foreign travellers spent EUR 742.2 mln in Latvia (excluding transport costs), which is EUR 73.7 mln or 11% more than in 2014.