International Internet Magazine. Baltic States news & analytics
Thursday, 23.03.2017, 12:17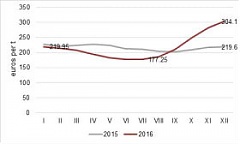 22.03.2017
Provisional data compiled by the Central Statistical Bureau (CSB) show that, compared to 2015, in 2016 the output of meat grew by 2% and output of milk by 0.8%. The most notable rise recorded in output of mutton and goat meat.
21.03.2017
According to Statistics Estonia, in February 2017, the producer price index of industrial output changed by 0.0% compared to January and by 3.9% compared to February 2016.
21.03.2017
According to Statistics Estonia, in 2016, the number of international traffic passengers served by Estonian ports increased by 4%, but the freight volume of ports in tonnes decreased by 4% compared to the previous year.
17.03.2017
Early in the 19990s, when the Berlin Wall had come down, enthusiasm about the perspectives for the future was unbridled in the Baltic Rim countries. Old ties were strengthened, new plans made, networks created, projects initiated, and numerous organisations from governmental to local levels founded within just a few years.
17.03.2017
All three Baltic countries posted year-on-year growth in exports in January, figures from the EU statistical office Eurostat showed on Friday.
17.03.2017
The Swedish media group Modern Times Group (MTG) sold its Baltic businesses at a good price, a Lithuanian investment expert told LETA/BNS on Friday.
16.03.2017
In February 2017, Latvia's registered unemployment rate decreased by 0.1 percentage points (ppt) to 8.4%, according to information released by the State Employment Agency writes LETA.
16.03.2017
Seasonally non-adjusted data of the Central Statistical Bureau (CSB) show that,compared to the 4th quarter of the previous year, in the 4th quarter of 2016 hourly labour costs rose by 51 cents or 7.3%, reaching 7.46 euros.Seasonally adjusted data, in turn, show that labour costs increased by 7.8%.
16.03.2017
Last year, banks granted many more loans to customers. This grew bank assets, increased their income and profits. Deposits with banks increased in number; as the economic condition improved, non-performing loans decreased. The banking system was well capitalised. Strengthening of capital was still relevant for domestic banks.
16.03.2017
The flash estimate1 put the Estonian current account at 251 million euros in deficit in January 2017. The cause of the deficit was large one-off import transactions for transport vehicles. The deficit on the goods and services account was 240 million euros. Goods exports grew by 9% and goods imports by 39%, so the deficit on the goods account widened to 342 million euros. Exports of services increased by 12% and imports by 10%, so the surplus on the services account was larger than a year previously at 102 million euros. The net outflow on the primary and secondary income accounts totalled 11 mln euros, which was 36 mln euros less than a year earlier.
16.03.2017
Lithuania's new car sales rose at one of the fastest rates in the EU in the first two months of this year compared with a year ago, figures from the European Automobile Manufacturers' Association (ACEA) showed on Thursday.