International Internet Magazine. Baltic States news & analytics
Thursday, 30.06.2016, 00:41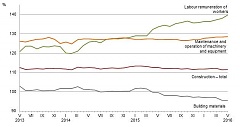 29.06.2016
Data of the Central Statistical Bureau (CSB) show that, compared to April, in May 2016 the level of construction costs in Latvia increased by 0.2%. Labour remuneration of workers went up by 1.2%, maintenance and operational costs of machinery and equipment increased by 0.1%, whereas the prices of building materials went down by 0.2%.
27.06.2016
Commissioner Jonathan Hill responded to modern issues concerning deepening of the single market, building a Capital Markets Union, and supporting strong pensions market in Europe. At the "Pensions Europe Conference", he claimed that the number of retired people will double in the near future and that pension funds can strengthen EU financial sector.
27.06.2016
The United Kingdom is likely to continue to enjoy free trade with the European Union when it leaves the bloc in the future, provided that London agrees to maintain the principle of free movement of labor, a Lithuanian economist said, cites LETA/BNS.
27.06.2016
While the decision of the United Kingdom to leave the European Union increases uncertainty, it will probably not result in a major decline of the economy, the Bank of Estonia (Eesti Pank) finds, cites LETA/BNS.
27.06.2016
The number of indigent people in Latvia kept shrinking also in May 2016, informs LETA, according to the Welfare Ministry's data.
24.06.2016
Financial turmoil and a long-term threat to Britain's global influence are the result of the 'Brexit' vote announced today following the UK referendum on European Union membership, reported BC the European Council on Foreign Relations (ECFR).
24.06.2016
Latvian President Raimonds Vejonis voiced regrets over the UK's decision to leave the EU, the President's Chancellery reported LETA.
24.06.2016
Britain has voted to leave the European Union, forcing the resignation of Prime Minister David Cameron and dealing the biggest blow to the European project of greater unity since World War Two, informs Reuters. Global financial markets plunged as results from Thursday's referendum showed a near 52-48 percent split for leaving.
23.06.2016
There are presently two global initiatives of cities and local governments combating destructive climate change while striving for sustainable energy: the EU Covenant of Mayors and the Compact of Mayors. They announced the formation of a new, first-of-its-kind initiative – Global Covenant of Mayors for climate and energy.
22.06.2016
Statistics Lithuania presents a statistical publication Lithuania in Figures 2016. The bilingual (in Lithuanian and English) publication presents information on the economic and social development in Lithuania. Statistical information about the population, education, culture, health care, labour, industry, agriculture, construction, trade, transport, national accounts, etc. is presented in the tables, graphs and diagrams of the publication.
22.06.2016
Statistics Lithuania informs that in May 2016 industrial production totalled EUR 1.5 billion at current prices and, compared to April, seasonally and calendar adjusted, increased by 3.8% at constant prices (seasonally and calendar unadjusted – 8.1%). In May 2016, against May 2015, calendar adjusted, industrial production decreased by 0.2%.