International Internet Magazine. Baltic States news & analytics
Friday, 22.06.2018, 11:52
Professor: the structure of the economic leadership in Latvia must be completely revamped
Nina Kolyako, BC, Riga, 25.04.2012.

Print version
The structure of the economic and political leadership in Latvia must be completely revamped; if the key laws of Latvia are not modified, any other reforms will be useless, University of Latvia Professor, auditing company BDO Invest Riga head Andris Denins, chairman of the recently-established association "Strategic Research and Management Center", says in an interview with the Nozare.lv business portal.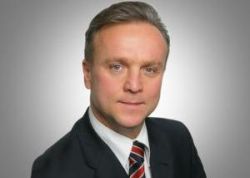 Andris Denins.
"Latvia must have a strong power vertical, where the president appoints the Cabinet of Ministers and holds every minister responsible for his or her results. Such a system will have no place for murky political intrigue, which do not achieve anything, and have not achieved anything during the 20 years since the restoration of independence," believes Denins.
Denins thinks that Latvia must become a presidential republic, where the president has more rights than now, writes LETA.
"I am not a politician, but I have spoken with [former Constitutional Court Chairman] Aivars Endzins and other lawyers, and they agree that such changes are necessary. If the laws on the political superstructure do not change, nothing will be possible. We must realize that a person without any education or experience should not vie for the premier's post, yet the political parties nominate such candidates. Obviously this is in someone's interest, so they could later manipulate him. This must not be," stressed Denins.
The president should perform the representative as well as executive functions, for instance, heading the government.
"I understand that if there is no iron fist in Latvia, no hard-line administration and no power vertical, there will be no other changes either," says Denins. If Latvia does make the change, "all the murky party affairs, which, to be frank, the nation has had enough of, could be left in the past, and the political waters will be clear," said Denins.
Denins also said that he would consider running for president if there was such a need. "I would only agree to such a step if the president's powers changed," said Denins, and added, "Latvia will not be able to recover if there is no concentrated will, execution and responsibility."