International Internet Magazine. Baltic States news & analytics
Saturday, 13.08.2022, 05:53
The government approves Latvia's Third National Action Plan for Open Government Partnership
BC, Riga, 08.11.2017.

Print version
The Third Action Plan for Open Government Partnership of Latvia will promote public participation in decision-making, progress towards "zero bureaucracy", as well as the strengthening of ethical values in public administration and transparency in decision-making, procurement procedures and state-owned capital companies, informed BC the consultant of the Communication Department of the State Chancellery Eduards Ozoliņš.
The approved plan includes a total of 12 commitments of Latvia, and they are focused on cooperation between state institutions and the public, as well as the use of open data. It is also planned to continue work on the establishment of an effective whistleblowing mechanism in Latvia.
The improvement and implementation of various services in the Internet environment, including the development of an open-source public data portal http://data.gov.lv, a research and publication database http://petijumi.mk.gov.lv, as well as a database of state-owned capital companies www.valstskapitals.gov.lv play a fundamental role in the plan. In addition, in the coming years, it is planned to develop a uniform portal for circulation of draft legal acts and a modern statistics portal, as well as to reduce the administrative burden for entrepreneurs and residents through the website www.mazaksslogs.gov.lv.
The plan also envisages providing the public with transparent and easily comprehensible information about the state budget, showing the spending of taxpayers' money and the results to b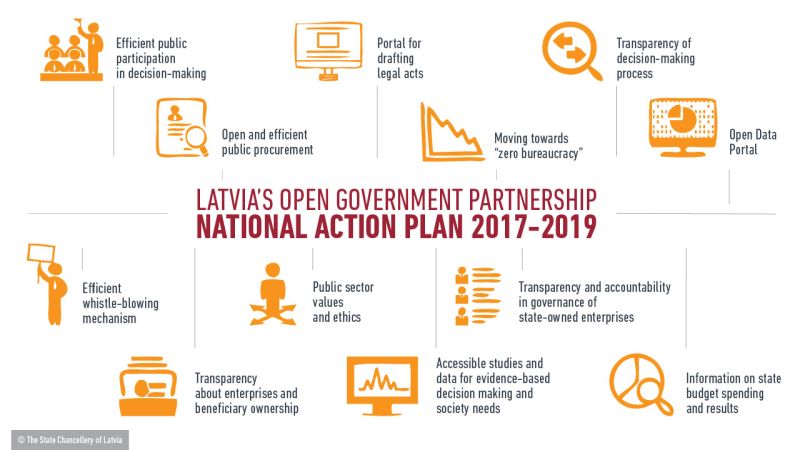 e achieved in an interactive way.
Public involvement has a crucial role in developing and monitoring the Action Plan. The drafting of the plan was led by the State Chancellery in co-operation with the Centre for Public Policy Providus and the Ministry of Environmental Protection and Regional Development, the Ministry of Finance, the Ministry of Culture, the Corruption Prevention and Combating Bureau, the Cross Sectoral Coordination Centre and other partners. The fulfilment of commitments set out in the plan will be coordinated by the State Chancellery and monitored by the Council for Implementation of the Memorandum of Co-operation between Non-governmental Organizations and the Cabinet of Ministers.
The OpenGovernmentPartnership (OGP) is an international initiative aimed at promoting openness, accountability, integrity and public participation in work of public institutions, incl. through the use of information and communication technologies.
The OGP currently includes 75 countries worldwide. Latvia has been participating in the OGP since 2011, and the State Chancellery discharges the functions of the National Contact Point.