International Internet Magazine. Baltic States news & analytics
Monday, 21.05.2018, 19:58
Ansip showcases Estonian e-solutions for U.S. congressmen
Juhan Tere, BC, Tallinn, 03.07.2012.

Print version
At a meeting yesterday with members of the House of Representatives of the U.S. Congress, Estonian Prime Minister Andrus Ansip outlined the developments that have taken place in Estonia's electronic services, the government's press service reports.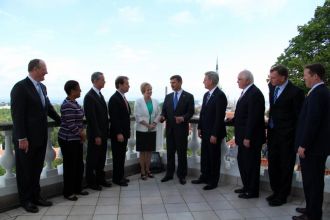 Andrus Ansip meets with the representatives of the U.S. Congress. Tallinn, 2.07.2012. Photo: valitsus.ee
"94% of all tax returns were completed online during the last round of declarations – not 9.4% or 0.94%, but 94%," Ansip explained. E-solutions are developed and perfected on a day-to-day basis in Estonia and demand for them is great. Both the state and private sectors contribute significantly to their advancement.
"Perhaps our biggest advantage in developing and adopting e-solutions was that we started from nothing," Prime Minister Ansip said. "That's precisely what we had to do with our economy, too – and the Estonia you see today is a completely different country to the one you would have encountered 20 years ago."
Minister of Finance Jürgen Ligi also met with the high-level delegation from the United States, whose members showed an interest in the economic situation in Estonia, the country's reforms and its Eurozone policy. Ligi outlined the choices that Estonia has made as a country with a small, open economy, saying that in combination with joining the Eurozone these choices had boosted Estonia's reputation abroad and guaranteed sustainable state financing.
"When the recession hit, our choice was clear: not to live beyond our means," Ligi said. "We saw an opportunity for much-needed reforms, and at the end of the day our decisions turned out to have been the right ones." The members of the delegation were also interested in Estonia's taxation system, particularly in terms of the business environment and the income tax incentives extended to companies.
"But we wouldn't have enjoyed any of this success without the freedom to pursue it," Prime Minister Ansip said at the meeting. "Relations between Estonia and the United States have always been good, and continue to be today. U.S. recognition of Estonia, Latvia and Lithuania under the Soviet occupation was a big thing for us. The Voice of America was a big thing, too." The prime minister thanked the congressmen for America welcoming Estonians to its shores and giving them the chance to live a comfortable life there.
The head of the U.S. delegation, Congressman Kevin McCarthy, thanked Prime Minister Ansip for Estonia's contribution and dedication to Afghanistan. The prime minister confirmed that Estonia would remain in Afghanistan for as long as necessary.