International Internet Magazine. Baltic States news & analytics
Tuesday, 15.10.2019, 22:11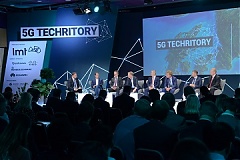 14.10.2019
The first 5G policymakers' hackathon will be held on November 26-27 in Riga, Latvia, during the 5G Techritory Forum.
07.10.2019
Estonia: DigiDocService service to be shut down in October 2020, informed LETA/BNS.
07.10.2019
The internet and digital technologies are already transforming the EU member states' knowledge and operation systems. During last five years the turn has come to science, research and innovation with a new concept of free access to all kind of research (called "open access"). The Baltic States science community has to take this challenge seriously.
04.10.2019
The chief executive officer of Lithuania's bicycle manufacturer Baltik Vairas, which sells 95 percent of its products to the Netherlands and Germany, believes that the future belongs to electric bikes, the Lrt.lt online news site has reported, citing LETA/BNS.
02.10.2019
The first "Open Data Hackathon for Municipalities 2019" will be held from October 18th to October 19th in Valmiera (Latvia). The 24-hour creative hackathon aims to raise public and IT entrepreneurial awareness of the potential of open data, informed hackathon organizers.
30.09.2019
East Over-the-top content provider will leverage reach of satellite at SES's prime neighbourhood to deliver Russian-language TV channels for households across Western Europe.
27.09.2019
TechChill, the leading start-up community NGO in the Baltics, is launching their 2020 season this week. The focus this season is the Big Shift – changes prompted by rapid developments in greentech, blockchain, and 5G technology that await us in the next five years. As every year, the main event will be the TechChill 2020 conference, which will take place on February 20-21 in Riga. Early-bird tickets are available starting today.
25.09.2019
Axioma Metering, a company of the industrial and energy project group Axioma, which is part of Lithuania's Icor Group, signed on Wednesday a 10-million-euro agreement to supply water meters to Oman and launch production in the Arab country, informed LETA/BNS.
25.09.2019
The Lithuanian Radio and Television Commission (LRTK) decided on Wednesday to block access to nine online sites broadcasting TV programs, reported LETA/BNS.
25.09.2019
AS Levira, Estonia's leading TV and radio network operator and Pixellot, the worldwide leader in AI-automated sports production have signed an exclusive, long-term production agreement with the Estonian and Latvian Basketball Associations. Levira will produce and live-stream all Paf Estonian-Latvian Basketball League games, Women's Baltic League ELITE and International Division games using Pixellot AI-automated technology. The games of the lower Estonian leagues will also be broadcast via Telia TV, Estonia's leading Telco, Levira representatives informed BC.
24.09.2019
The Lithuanian government is abandoning the idea of introducing online voting in elections over security concerns. Justice Minister Elvinas Jankevicius says the government is dropping the plan due to growing cyber-security threats worldwide, cited LETA/BNS.